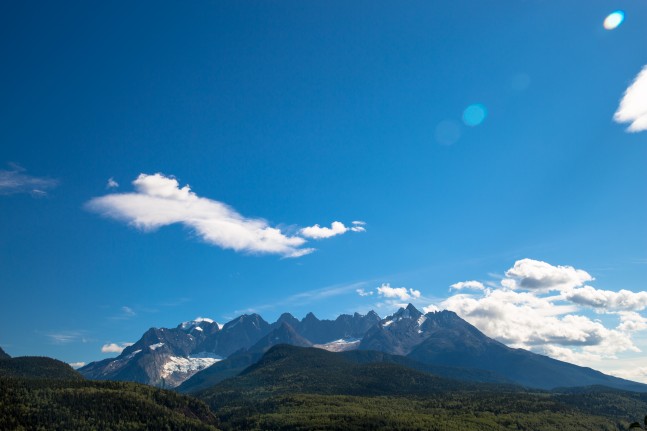 Community of Kitwanga
Kitwanga, or Gitwangak ("place of rabbits"), the starting point of the Stewart Cassiar Highway, is at the junction of Highways 16 and 37 and the confluence of the Kitwanga and Skeena Rivers. Outstanding carved cedar poles - some more than a century old - are found here, as well as St. Paul's Anglican Church, built in 1893. There are more than 50 incredible totem poles within an hour's drive. Kitwanga is also adjacent to the Upper Skeena "Grease Trail", named after the eulachon oil trading route that connected the inland and coastal First Nations. The Grease Trails are believed to have extended as far north as the Bering Sea.
This is also the site of the Gitwangak Battle Hill National Historic Site of Canada. This site commemorates the struggle of Battle Hill, a fortified village occupied by the Gitwangak First Nation in the late 1700s and early 1800s. The fort was strategically located atop a hill with views of the valley and river. Gitwangak warriors would roll logs down the hill to stop attackers. The historic site includes a self-guided tour and ample parking for RV's. Gitwangak Battle Hill National Historic Site.
Community of Gitanyow
Gitanyow, or Kitwankool, is 15 kilometers (nine miles) north of Kitwanga and was designated a National Historic Site in 1972. Gitanyow, at one point, had one the largest number of original totem poles of any Coastal First Nation village, many dating from the mid 19th century. Now, less than twenty original poles remain. Some were sent to the Royal BC Museum in Victoria in the early 1960's in exchange for replicas by noted Kwakiutl carver, Henry Hunt. The copies were re-erected in 1970, and the remaining poles were restored and re-erected by the Skeena River Totem Pole Preservation Society in 1968. Famous Canadian artist Emily Carr visited in 1928, and painted many of the village's poles. Magnificent poles, carving sheds and a graveyard contribute to the magical feeling of the site.
Nearby Attractions
Gallery
Home
»
Communities
»
Here