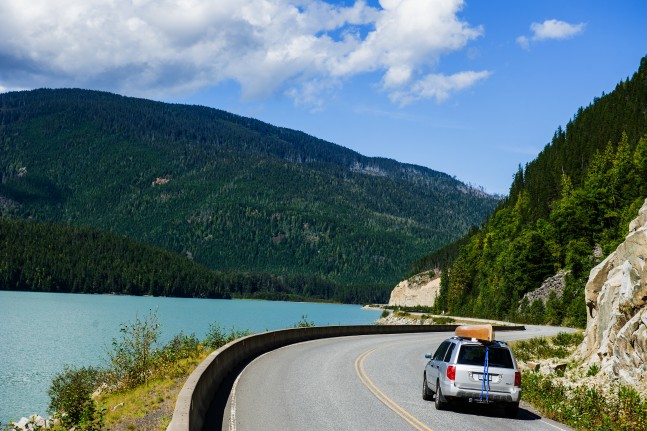 The Nass Valley – home of the self-governed Nisga'a Nation– is a side trip worth taking. The main access is via the Nisga'a Highway, north from Terrace off of Highway 16. The Nass Valley is also accessible from Highway 37, albeit a rougher road. From Highway 37, turn west at km 76 onto the Nass Forest Service Road, a narrow, winding, 61 km gravel road to New Aiyansh. (Note- This is a Forest Service Road with limited maintenance and drivers are asked to take additional care when driving this route.)
The Nass River travels through a valley formed by molten lava on its way to the Pacific Ocean. The Nisga'a Memorial Lava Bed Provincial Park is the site of Canada's most recent volcanic eruption. The lava beds were created in 1750, about the time the Spanish explorers arrived in the area. Starting from a small cinder cone, lava flowed into the Nass River Valley and travelled downstream, creating a lake with red sand beaches.
The Nass Valley is comprised of the four Nisga'a villages of Gitlaxt'aamiks (New Aiyansh)-Capital of the Nisga'a Nation, Gitwinksihlkw (Canyon City), Laxgalts'ap (Greenville) and Gingolx (Kincolith)-Seafood Capital of the Nass.
Nearby Attractions
Gallery
Home
»
Communities
»
Here