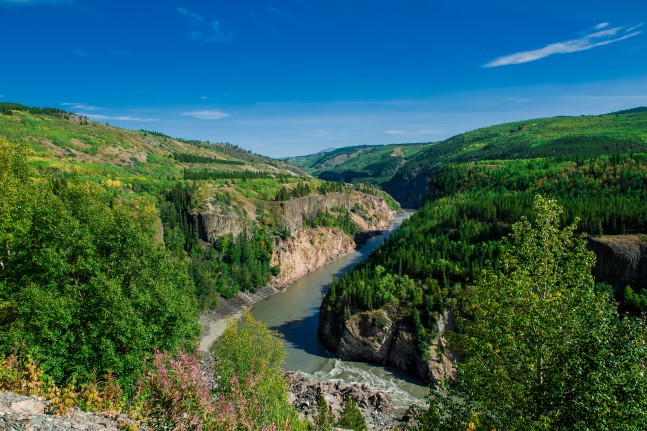 Telegraph Creek
For an adventurous journey back in time, take the 112-kilometer (70 mile) gravel road from Dease Lake to Telegraph Creek along the Grand Canyon of the Stikine. Following a First Nations' trading route and the path of early gold prospectors, the road winds along the Stikine Canyon, with dramatic views of the sheer walls cut by the river through layers of volcanic lava. Mountain goats can be spotted among the ledges and rock outcrops of the canyon. The breathtaking road descends to the community of Telegraph Creek, which was once the limit of navigation for riverboats bringing passengers and goods inland.
The Tahltan First Nation has lived in this area for generations, and still harvest the Stikine's prolific salmon run. Scenic floatplane flights are available, as well as a heart-stopping helicopter tour into the Grand Canyon of the Stikine.
All visitors are asked to respect traditional Tahltan sites. Permission to fish in Tahltan waters can be acquired from the Band Office.
Grand Canyon of the Stikine
The Stikine Grand Canyon has prevented all but the most skillful kayakers from paddling the entire length of the river. More people have walked on the moon than have paddled through the Grand Canyon. Check out the Stikine Canyon Kayaking Video.
Nearby Attractions
Gallery
Home
»
Communities
»
Here